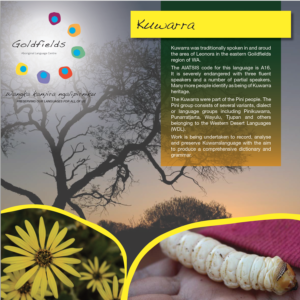 Kuwarra Location
The Kuwarra language is spoken by the people in and around Leonora in the eastern Goldfields region of Western Australia. Kuwarra traditional land extends south to Gwalia (Mt Leonora) hill south of the town of Leonora on Lake Raeside. Through the west to Perinvale Station to a hill at that location. Then west through to the town of Sandstone where a border is shared with the Badimaya people. Some old people used to say the territory extended through to the town of Wiluna and then Lake Carnegie. The area extended through to Mulga Queen, Cox's Find and back to Leonora. The area between Laverton and Cosmo Newberry  was shared with the Tjalkanjarra people.
Kuwarra people lived on the stations of Weebo, Sturt Meadows, Mt Keith and Tarmarloo.  The family groups were well treated on these stations and were therefore able to remain intact and avoid some of the, but not all, movement to missions. In particular, on Weebo Station, a manager referred to as Uncle Robert spoke the language and enabled Kuwarra people to attend Law. In return the Kuwarra people assisted pastoralists by bringing necessary rain.
In this respect, the language was able to survive relatively intact longer than many other languages of the area.
Some informants refer to Kuwarra as being one of the Pini languages. Tindale recordsPinhi as being a language of the area. Kuwarra speaker's description of traditional lands correlates with the area identified in the Tindale map as Pini.
An ABC Open short film about Luxie Hogarth-Redmond and Geraldine Hogarth.
Kuwarra Names
The Kuwarra were part of the Pini people.  The Pini group consists of several variants, dialect or language groups including Pinikuwarra, Punarratjarta, Wayulu, Tjupan and others[2]. Geraldine Hogarth[3] describes Kuwarra as being one of the Darlot  languages along with several others.
Tindale (1974) describes Pini as being located:
'West of Lakes Carnegie and Wells to Millrose and Barwidgee; at Erlistoun Creek and Lake Darlot. North to Wongawol and Princes Range. This is a tribe discrete from the Tjalkadjara, although they speak allied dialects of the Western Desert type. Capell (1963) was incorrect in listing them as one people.' [4]
Tindale lists variant, dialect or language names under this Pini title as being:
'Piniiri (valid variant), Piniridjara, Biniridjara, Pandjanu, Bandjanu (locality term, now Bandya Station), Banjanu, Tjubun, Madutjara (term applied by the Nan-gatadjara), Jabura ('northerners,' name used by Tjalkadjara), Birni (a supposed name of their language probably a corruption of Piniiri), ? Buranudjara, Nangaritjara (name of their speech as used by Tjalkadjara), Wordako (said by a Ngadadjara man to be a language name of the Lake Darlot people; also used for Tjalkadjara).' [5]
No other names and spellings have been recorded for the language.
The AIATSIS code for Kuwarra is A16.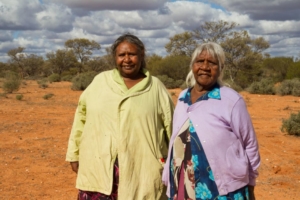 Geraldine Hogarth and Luxie Hogarth-Redmond, Kuwarra speakers.
Kuwarra Migration
Kuwarra people travelled across their country in seasonal patterns from time immemorial. Those patterns were interrupted in the 1880-90s when the gold rush and subsequent pastoral settlement movement dislocated many Kuwarra people from their land. The establishment of missions further disrupted many people's lives as they were sent to them.
Wongawol Station was another place many Kuwarra people lived. A manager by the name of Tommy Melon is reputed to have shot many Kuwarra men and kept the women. Many mixed race children were born as a consequence.
It appears that a great number of Kuwarra people died of influenza on 'New England' in the early 20th century. There may be records of these deaths in station records and detailed historical work in Battye Library archives may uncover this information.
State of the Language
It's possible that Luxie is the last fluent speaker of the language. Her daughter and other family members are partial speakers.  Some people are recallers, whilst many others identify as Kuwarra. Many people speak a local Leonora Talk which draws from several languages of the area including Kuwarra. Recently deceased elder, was considered to be a very fluent speaker. Sadly, the work being undertaken on this language did not happened in his life time.
Currently no children speak or are learning the language. The Hogarth family are trying to pass on language to the younger generations and the children have shown interest.
Efforts Being Taken to Record the Language
Until 2011, there appears to have been no linguistic work undertaken on the language. No records or word lists have been found in archive searches. A detailed trawl through historical station records may uncover some language material but will need to be undertaken over time.
The Manager of Weebo Station, Robert Money, was said to be a fluent speaker and efforts are being made to try and locate any records he may have made.
Mount Vernon was a rations depot which many Kuwarra people attended in the 1920s. The names of people receiving rations were recorded. It may be possible that there are some records in a mission archive related to Kuwarra people from this source.
Linguist Sue Hanson undertook the work with the Hogarth family on the collation of material and development of an orthography and development of a Toolbox database and dictionary in 2011-12. Community workshops were held in Leonora to work through orthography options and choices led by Hanson and linguist Doug Marmion. Final decisions about the Kuwarra orthography have yet to be made with speakers. A decision was made to collect a mass of data first in order to identify the phonemes of the language and the issues that may arise with orthographic choices.
Much work remains to be done on this language. Extensive recordings of natural speech, the development of the electronic lexical database and writing of a full descriptive grammar are amongst the most urgent of the tasks yet to be undertaken.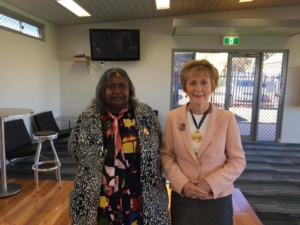 Gerldine Hogarth being awarded a medal for her health and language work, 2016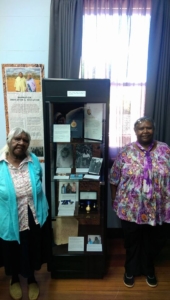 Luxie and Geraldine with the medal and material
---
[1] Tindale, NB 1974 Aboriginal Tribes of Australia
[2] Luxie Hogarth-Redmond and Geraldine Hogarth, Kuwarra speakers
[4] Tindale, N B Aboriginal Tribes of Australia
[5]  ad ibid
Kuwarra Resources
Kuwarra Alphabet Chart
A free downloadable Kuwarra alphabet chart is available here.
Excellent for classrooms or children's rooms, these charts can we wiped and are very strong.
Kuwarra Syllable Chart
A free downloadable Kuwarra syllables chart is available here. Or beautiful non-rip charts can be purchased from GALC for $40.
Kuwarra Body Parts Chart
A free downloadable Kuwarra body parts chart is available here. Or a beautiful non-rip poster can be purchased from GALC for $40. Excellent for the classroom, doctor's surgery or clinic.