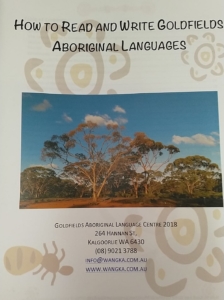 This section of the wangka.com.au website provides a pronunciation guide for the languages of the Goldfields region.
The Goldfields Aboriginal Language Centre has produced a book called 'How to Read and Write Goldfields Aboriginal Languages' for sale. This website guide accompanies the material in the book.
The booklet is available here as a free download as well.
Audio Files to Accompany the Booklet
This section of the website may be used by people learning a Goldfields Aboriginal language to hear and practice their language pronunciation.
Choose the language you are interested in hearing and then click on each audio file. Each word is said 3 times to provide the listener with an opportunity to say the word and learn the correct pronunciation.
Quick Link to Languages
Ngadju
Kaalamaya
Tjupan
Ngalia
Kuwarra
Ngaanyatjarra
Pitjantjtjarra
Cundeelee Wangka
Warlpiri
Yankuntjatjarra
Pintupi
Wangkatja
Maduwongga
Manytjilytjarra